Rioja is unarguably the most famous wine region of Spain and many drinkers have yet to explore beyond this legendary area. Some, armed with moderate knowledge of this one region, may even consider themselves well versed in Spanish wines. And with all the stellar production coming from Rioja, what is there to tempt us away to venture out to other regions?
Indeed, In Rioja alone there are close to a thousand wineries, with wine laws specifically developed for the region. It's one of the only two DOCa's, while the rest of the country is designated as DO. The difference? A DOCa is a multi-autonomous region DO. They focus on the highest quality of native grapes such as Tempranillo, Graciano, Mazuelo and Viura. Rioja DOCa is synonymous with some of the highest quality and well-known wines coming out of Spain. This, combined with our tendency to gravitate to familiar sounding words when it comes to reading foreign languages on wine bottles, makes Rioja the go-to Spanish wine. It's no wonder importers are eager to stock their shelves with it.
Across bottle shops in Asia, Spanish wine selections are appallingly underrepresented even when compared with wines from Germany and the USA. In my opinion, it is long overdue for us in Asia to experience the diversity and quality-centric wine regions of Spain.
With this more adventurous spirit in mind, in this article, I will focus on a few key wine regions you should be aware of outside of Rioja and share with you the pronunciation of some of its native grape varietals.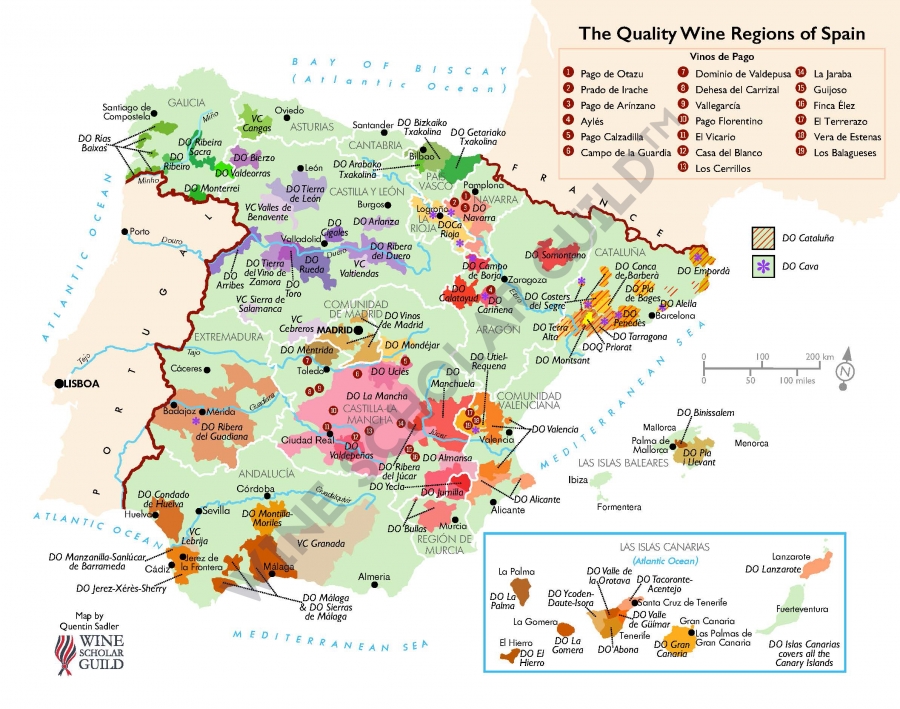 (Resource: Wine Scholar Guild)
Green Spain (Galicia, Asturias, Cantabria & Basque)
We begin by getting to know a band of 4 autonomous regions known as Green Spain, located on the northern coast of Spain. This consists of the autonomous regions of Galicia (Pronounced as 'Ga-Li-Xia'), Asturias ('As-Tu-Rias'), Cantabria ('Kan-Ta-Bria') and Basque ('Bus-k'). Some might say it includes a small portion of Navarra. As a result of its geographical location, Green Spain receives the most rain and hence enjoys the most diverse flora and fauna. Individually, they are different in terms of culture, wine styles & grape varieties used.
For the purpose of this article, I'll point your attention specifically to Galicia. Mostly known for its production of crisp, white wines, they pair famously with its abundant seafood cuisine. Some wines to keep a lookout for:
WHITE
Albarino ('Al-Ba-Ri-Nyo') Grape – DO Rias Baixas ('Ri-Ya Bai-Jas')
Godello ('Go-De-Yo') Grape – DO Valdeorras ('Bal-Di-O-Ras')
Treixadura ('Trex-Xa-Du-Ra') – DO Ribeiro ('Ri-Beh-Ro')
RED
Mencia ('Men-Thia') Grape – DO Ribera Sacra ('Sa-Kra')
If you'd like to explore outside of Galicia and into the Basque Country, you can try this red:
Hondarribi Zuri ('Hon-Da-Ri-Bi Zu-Ri') – DO Getaria Txakolina ('Cha-Ko-Lee-Na')
Castilla Y Leon
The Duero River Valley is located within the autonomous region of Castilla y Leon ('Kas-Ti-Ya E Lee-Yon'). This region is one of the biggest demarcated regions, and one of the highest elevations in all of Europe. It experiences huge temperature differences in a day (known as Diurnal Range) and drastic changes between seasons (i.e between summer and winter). It is an extremely important place for both historical significance and viticultural value. The national red grape of Spain is widely known as Tempranillo ('Tem-Pra-Ni-Yo'), however, this grape adopts different monikers depending on where you are in Castilla y Leon.
You can find Tempranillo grapes under these names in their respective regions:
Tinta del Pais ('Tin-Ta Del Pa-Yees') – DO Arlanza
Tinta de Toro ('Tin-Ta Di To-Ro') – DO Toro
Tinto Fino – DO Ribera del Duero
White wines to try:
Verdejo ('Ber-De-Ho') – DO Rueda
Castellana ('Cas-Tay-Ya-Na') – DO Bierzo
Other reds outside of Tempranillo:
Rufete ('Roo-Fat-Tay') – DO Arribes
Juan Garcia ('Huan Gar-Xia') – DO Arribes
Prieto Picudo ('Pri-Ye-To Pi-Ku-Do') – DO Tierra de Leon
Navarra & Aragon
As part of the Ebro River Valley (La Rioja), the region continues into Navarra & Aragon. Historically, The King of Aragon, Ferdinand II joined hands with Princess Isabella of Castile by marriage and became one of the most powerful kingdoms in Spain. Even some parts of Italy were once under their rule. Both autonomous regions are known for producing mostly red wines and some whites and rose wines. Through scientific studies, Aragon was identified as the birthplace of the grape Garnacha. Also, within this wine region, one can find many international grapes such as Chardonnay, Sauvignon Blanc, Riesling, Gewurztraminer, Merlot, Pinot Noir, Cabernet Sauvignon and Syrah being cultivated and produced.
The "must-try" red grape:
Garnacha ('Gar-Na-Cha') – DO Somontano, is the original birthplace, internationally known as Grenache.
If you are reading till this line, that means you haven't given up. That's a good sign that hopefully means you'll soon be having one of these try-worthy wines in your own glass. Stay tuned for the second part of this article, where we'll explore more Spanish wine regions (including 2 major islands producing top wines) for you to dive into.
To Be Continued...
Click here to explore more Spanish wines.